July 3, 2005
Well I must say it wqs quite nice not to have to work today. I had spoken to my new Chaplain a few days ago and one thing that he told me was that he doesn't answer his phone or walk anywhere on Saturday. I had asked him why and he had said because it was the sabbath, and he didn't work on that day. My new chaplain is Jewish, and that is why he celebrates Saturdays. Well I was inspired a bit by that. Although many of us celebrate Sunday in the Christian sects, we tend to continue our busy lives after we leave the church doors on Sundays.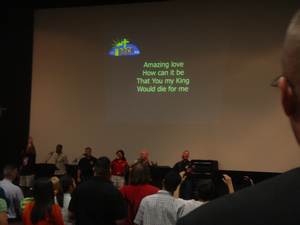 I have always gone to the church I work at since I've been here simply because it's the closet church within walking distance. However I have been hearing some buzz about a new style of worship that had been started up at the other end of the post. They had originally began in the chapel, but the service continued to grow until they had to hold services at the movie theater to hold all of the attendees. It appears now that they are going to have to look for an even bigger service now, because they have now filled that as well.
The service was great. It was very conteporary and they sang more modern hymns and christian music with electric guitars and drums. The service was catered more towards the younger generations and I think that is why it has done so well. Each Sunday is different. Some days they have skits, others they have a suprise for the congregation. And of course there is always a sermon. After the service, on my way out the door, I saw a sign-up for a free concert. It was a Michael W. Smith concert being held in Jamsil. There were 8 people who had paid $50 for their tickets, but couldn't go, so they were giving them away. I got one of the tickets, and decided to go later that night.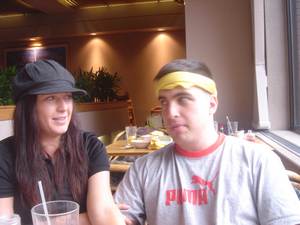 A buddy of mine name Dan who I had met at the Tres Dias retreat a month ago was also at the service with his girlfriend. He invited me to have lunch with him and his girfriend at Greenstreet, so I agreed. Dan is just a funny guy. His personality reminds me a lot of myself; always acting like a little kid and having a good time. His girlfriend is from Australia and I loved her accent. She told me that she teached english here in Korea. It seems that every non-Korean here is either a soldier or a teacher.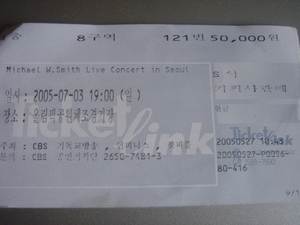 Well, I had planned on taking tons of pictures at the concert tonight, but due to my stupidity, I forgot to put the memory stick back in my camera when I walked out the door of my house. So the only picture I have is of my ticket. Oh well. It was a wonderful concert and very emotional. All in all, it was a great day of devotion to God and a much needed one for me.