July 2, 2005
Well today is actually a continuation of yesterday It has been one long day. Yesterday I went with Kim to the electronics market to get my X Box fixed. I accidentally erased the DVD player file on it when I was messing with it a while ago.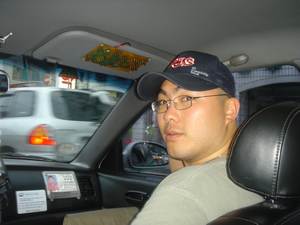 Kim in the taxi on the way to E. Market. A new guy, McGraw, came with us. He's never been anywhere in Korea, so I told him I'd show him around a little bit. he was suprised at the movies here.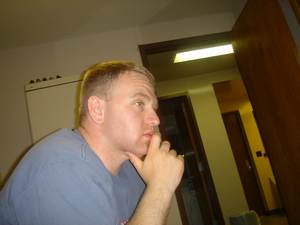 Here's apic of McGraw. We hung out and killed each other on Medal of Honor for a while and then watched the new Adam Sandler movie "The Longest Yard." It was a long night.



Well, I got up early this morning and packed my bags into the chapel vehicle and loaded up some blankets and took one of the Korean Katusa's with me, CPL Park, to Seoul station. I had planned on visiting the homeless there for some time now, but never had a free weekend to do it. I really didn't want to do it today, but I knew I had to. We showed up and as soon as we started handing out food, homeless people came from everywhere. Some of them were rude and tried to steal the food out of my bag, but most of them were nice. Park was able to translate for me, and we said a prayer with all of them and gave them some snacks and religious literature. It's truly a humbling experience to that sort of work. It makes you feel guilty and selfish when you show up there. I was imbarrassed when I asked to take one of the guys pictures and pulled out my $500 camera. I just kept thinking how much food I could have bought with that money to feed these people who can't even afford to wash the clothes on their backs.


After feeding and praying for the homeless Park and I left to go get some food ourselves. On the way I spotted another odd sign. This time it was the sign on the door for the men's restroom.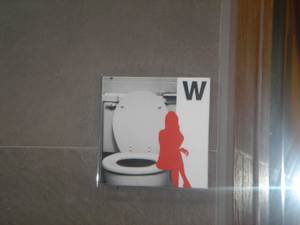 And here was the women's sign. Classy!


We saw these motorized skateboards there too. It has a little controller like a remote control car, but when you turn it it speeds up the board or slows it down. It also had a brake line that went to the wheels. Pretty cool stuff. It looked hard to use though. They also had mini versions of the American Chopper themed bikes there too.


Here is Park at the restaurant we ate at. Park is a Chaplain Assistant who works at the Chapel I work at on the weekends. He works at the chapel during the week. Today was the first day that I really got to talk to him. he is a strong Christian and realy enjoyed helping me today.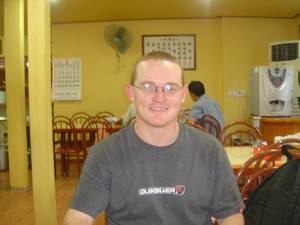 That's me at the restaurant with Park. We had Bulgogi for lunch. That's beef and rice and a few noodles in a bowl of broth.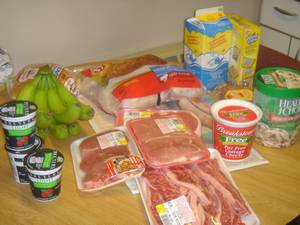 After eating lunch came home and wrote birthday cards to everyone having one this month (they're in the mail!) and a letter to my mother. Then I went grocery shopping. I've been craving meat, so I bought a bunch of steaks this week. As you can see, I'm eating pretty healthy these days. Even the ice cream is sugar free and low fat. I found out later that that is a nice way of saying "low taste" and "delicious free" though. It wasn't that great.


CPL Kim was nice enough to give me this free program today. Now I can make copies of any DVD movie for free. It's illegal in the states, but hey, I'm not in the states now am I? You simply put the movie in one DVD drive and a blank disk in the other and press start.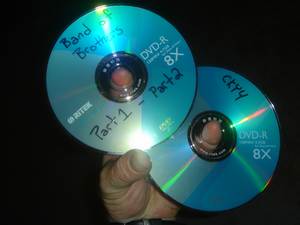 ..... and about 45 minutes later you have these wonderful copies of your favorite movie absolutely free! I'll never pay for another DVD again.


I was really happy when I visited the post office today. I got another package from my mom today! That's the second one this week. I also had a note that said I had a package that I had to pick up but the post office won't be open until Wednesday, so I guess I'm going to have to wait.

Tonight I watched a movie, copied a few movies, and did some shopping. I got a few gisfts for my wife. Tomorrow I think I'll go for a run after church. There is also a free Ty England concert. He's a country singer and although I know who he is, I can't think of any of his songs. That's at 6:00, so I may go to that. I mean, you can't beat a free concert. That means the beer will be $3 a bottle, but that's OK. I guess I'll be drinking my water tomorrow. Well, stay tuned and I'll fill you in on all the details of that. Until then, goodnight.